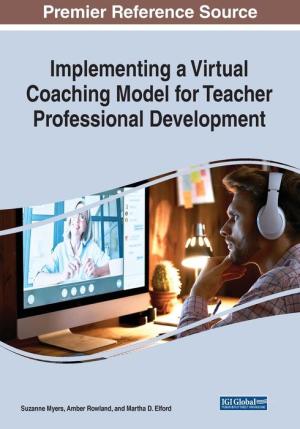 Implementing a Virtual Coaching Model for Teacher Professional Development
Over the last two decades, the use of instructional coaching has surged in PreK-12 education settings as one way to support the implementation of instructional best practices in a wide range of disciplines. However, not all educators have access to high-quality instructional coaching due to multiple factors, which typically include isolation (geographic and otherwise), limited financial support, and limited professional development time. In addition, the COVID-19 pandemic brought long periods of quarantine and social isolation where educators were scrambling to teach in an unfamiliar medium, and virtual coaching was the only way they could receive professional development. For these reasons, many districts are exploring virtual solutions to provide professional development and coaching support.
Implementing a Virtual Coaching Model for Teacher Professional Development addresses how to effectively implement virtual coaching in the field of education and discusses how technology can provide more equitable access to job-embedded and personalized professional learning (through virtual coaching) across all educational institutions. Covering a wide range of topics such as sustainable learning and cognitive coaching, it is ideal for professional development professionals, corporate trainers, education leaders, principals, teachers, researchers, practitioners, academicians, and students.
Most of what I've learned about virtual coaching, I've learned from my research partner Martha Elford. Now, she and her co-authors Amber Rowland and Suzanne Myers have collaborated to put that knowledge together in publication so that everyone can access their collective expertise. Implementing a Virtual Coaching Model for Teacher Professional Development, detailing their VECTOR Virtual Coaching Model, is destined to be the classic work on its topic. Anyone who does virtual coaching needs this book today.
Increasingly, coaching has become an integral component of professional development initiatives. Research has repeatedly shown how professional learning is greatly enhanced when high quality coaching is provided. Several factors, however, have limited the overall effectiveness of traditional coaching models that typically call for coaching to be provided in person. Because most in-person coaching is provided on a one-on-one basis, it can be a costly addition to budgets. The cost of this service is magnified when one factors in travel  time from one site to another thus greatly reducing that actual time that coaches are productively engaged. Unless there are a sufficient number of coaches in a system, it can be difficult to do the desired number of return visits to ensure that targets are being met and that teachers are receiving the kind of follow up supports that are required when teachers are trying to master complex instructional practices.
Additionally, with the onset of the COVID-19 pandemic in early 2020, many traditional coaching models floundered in their efforts to provide meaningful coaching supports when face-to-face interactions were greatly limited. In the context of these limitations of traditional coaching models, innovative alternatives have emerged. The VECTOR Virtual Coaching model described in this book started several years before the pandemic hit. Specifically, each of the authors has been centrally involved in developing ways to provide coaching in a one-on-one basis virtually. This work had its origins ___ years ago. Each author has been centrally engaged in applying the VECTOR Virtual Coaching Model to a broad array of professionals in a host of settings. Thus, this book is not one that describes ideas that sound good; rather, it is one that provides very practical guidance and detailed protocols that are grounded in principles that have been refined over the course of multiple iterations.
A central finding that has emerged from their work is the following: effective virtual coaching requires an additional set of skills beyond simply taking a traditional face-to-face coaching model and do it virtually. This book very clearly highlights these differences and provides detailed explanations of how to acquire and apply these unique skills.
This book is masterfully conceptualized and written as evidenced by the following:
it is very authentic and genuine in tone because it liberally shares lessons learned and problems encountered in the process of building and refining their model;
a thorough description of trends and issues in professional learning for teachers with an explanation of how teachers can effectively be supported via virtual coaching;
numerous and very practical real-world examples and anecdotes are provided to help amplify and clarify points being made;
existing research on coaching is regularly cited and used to provide clear rationales for the VECTOR Virtual Coaching model. However, the research is presented in a very easy-to-understand manner; hence, it deepens the readers understanding of why and how various components of virtual coaching should be implemented;
the complexity and magnitude of the load that classroom teachers and administrators carry is clearly acknowledged and coaching solutions and protocols are provided in light of those realities;
one of the book's most prominent characteristics is that every component of the VECTOR Virtual Model (and the related ACTIVATE component of the model) is accompanied by very practical suggestions including how to choose various platforms and how to work around limitations of technology components in very concrete ways.
This book not only breaks new ground in how to provide meaningful and effective coaching via a virtual format, but it opens the door for ways that other traditional coaching models can be modified and enhanced by applying the principles so clearly described in this book. Virtual coaching will continue to gain traction and wide scale adoption in the coming years. As this occurs, I fully expect that this book will become the gold-standard that is continually referenced for ways to optimize the impact of virtual coaching efforts.
Williamson Family Distinguished Professor Emeritus of Special Education
Founder and former director, Center for Research on Learning
University of Kansas